Humans of York
Taking inspiration from Humans of New York, each week we feature students and staff from across campus.

Meet John
"My main interest as an archaeologist is the application of archaeological methods to contemporary issues. So my main research areas are: music and place; the Cold War period, with a particular focus on Berlin; wellbeing; and environmental pollution (marine plastics). Mine is a very cross-disciplinary approach and I find that York is a small enough university and has a close enough community for me to be able to make connections easily.
My research wouldn't fit in everywhere but it certainly fits in here at York. I feel that I'm among colleagues who understand and embrace my interests and I teach students who have an enthusiasm for my particular version of archaeology. If I lecture on the Cold War or music venues, not all of them are into that, but they all seem to get it perhaps because they can relate it to something directly. They might have been taught about the impact of the Berlin Wall coming down in terms of European politics and history, but that's not quite as relatable as its impact on urban spaces and communities. The past didn't only happen a long time ago. It also happened just ... then! The human story is what archaeology is all about - telling stories of individuals or groups of people through their material culture, through the things that they've left behind whether 10,000 years ago, or yesterday! 
Alongside my role as Professor, I DJ. It's come from a long-running love of music alongside a deep frustration at not being able to play a musical instrument. I can feel a rhythm, but despite trying to play music I was never able to take that any further ... until now. DJing uses some of the same skills as I've developed as an archaeologist - the idea of trying to collate and curate things, whether into a coherent setlist or an historical narrative. Recently I gave a talk about Berlin techno and the Berlin Wall in the Forty-Five Vinyl Café in town, and followed it with a DJ set from 30 years of Berlin techno. Putting that together involved looking back over time from the mid-1990s to today to create something that represented the changes and diversity of the genre - a stratigraphy of techno! It was fun to do, thinking about the past in different ways and about music archaeologically."
Professor John Schofield, Archaeology
Learn more about John's research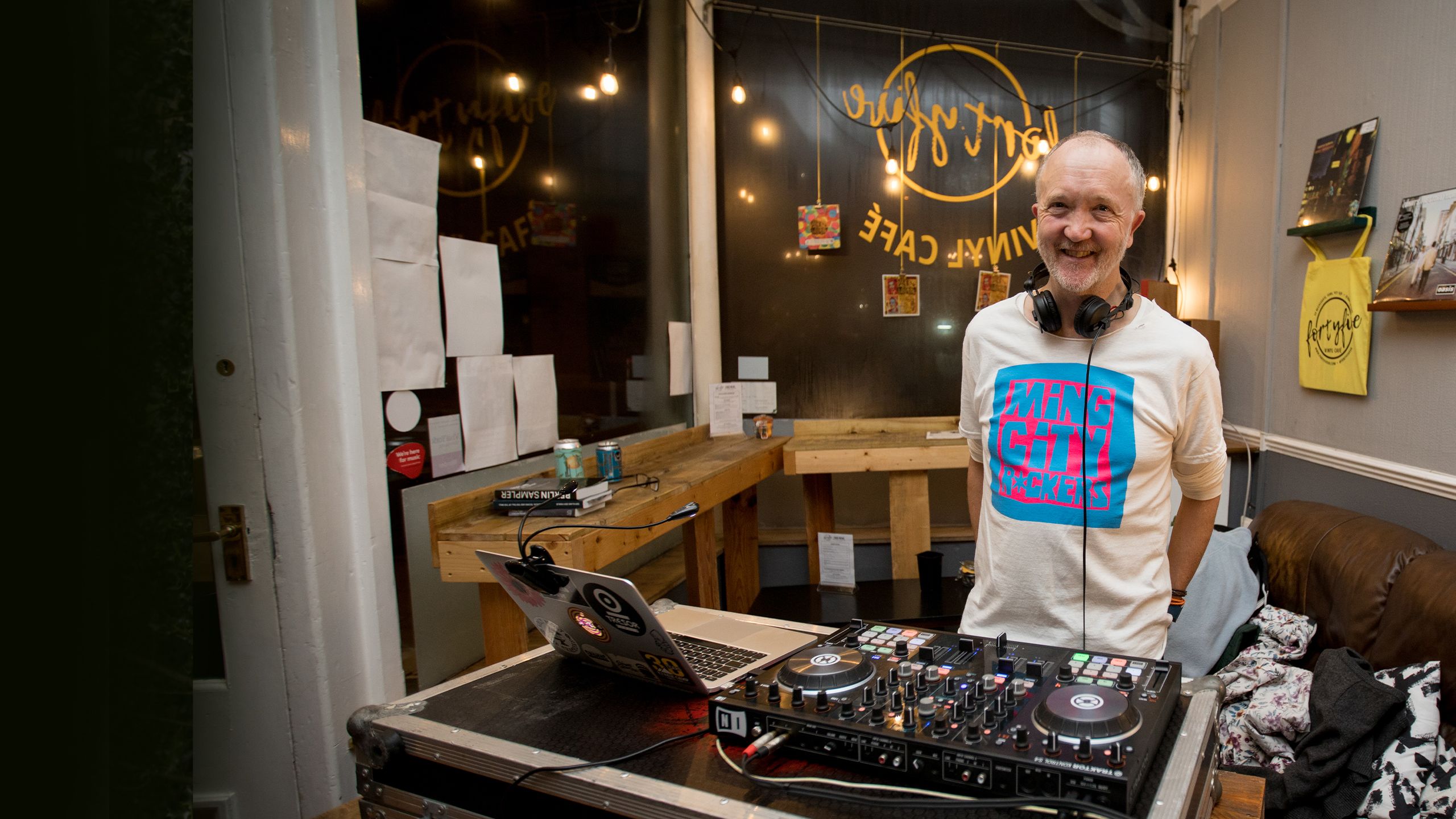 Meet Brian
"I remember a conversation with my dad before coming to uni - I said that obviously I would focus on my studies, but I added that it would be a shame if I didn't at least try one or two societies… I counted the other day and I think I've been involved with over fifteen!
Coming to uni has given me the freedom to try so many things and do what I want to do. Sometimes it hasn't always gone as planned but those experiences have helped me learn how to push through. I feel like I've adopted a philosophy of 'bad things do happen, but it can and does get better'.
What's the absolute favourite thing I've done so far at York? During exams people get very stressed and I remember I was sitting in my room in first year, procrastinating a little bit, just thinking that everybody's stressed but what could I do about it? Then I looked in my closet and as a result of being part of Nerf Gun Society I had a Where's Wally costume. I fished it out and decided to go my exam dressed as Where's Wally! It made a lot of people smile and go "that's Where's Wally" and just for a moment, they forgot about the exams. In second year I switched it up and got a wizard costume which was even more fun!"
Brian, BSc Mathematics, Constantine
Discover student life and societies at York. Following a successful campaign in the student union elections, in summer 2020 Brian will start his role as YUSU Activities Officer.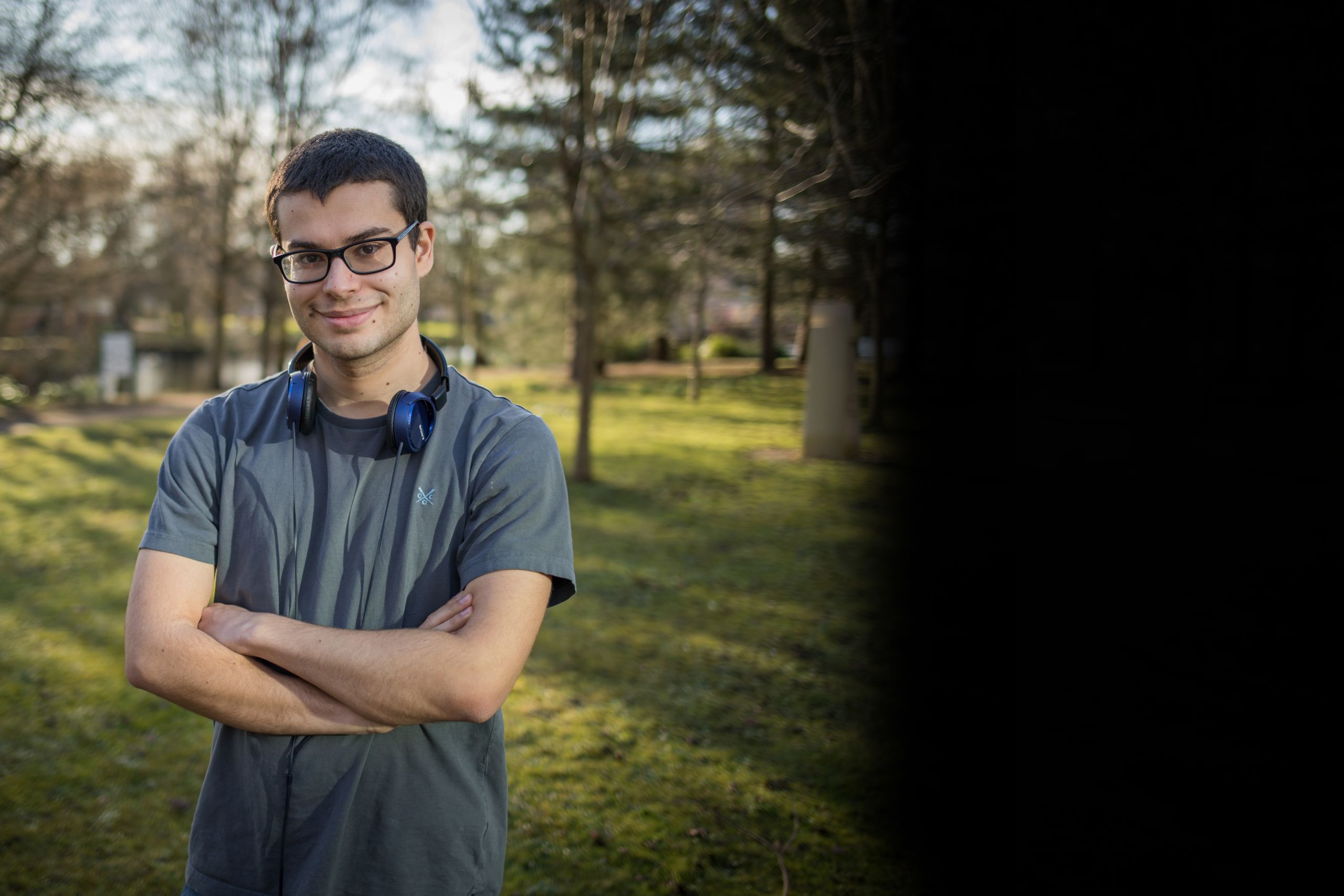 Meet Helena
"Recently there has been discussion about singing being good for you, and the idea of singing together being prescribed for depression, mental health and to complement clinical therapies. At YorkTalks I discussed whether there might be something specific about the act of singing together which is beneficial. Is there something valuable which goes beyond the social element of getting out of the house and speaking to other people?
In the AudioLab we've developed a virtual reality experience which lets you sing as part of a choir, but controls for the social element as you can't communicate with other singers. 'Sing from your seat' allows people to be part of a scratch community choir, singing outside in the Lake District. 'Scratch' means that it's open to anyone of any ability - you don't need to know the songs as they're taught to you within the experience. We've taken the project into care homes to try to improve accessibility to group singing and explore its benefits.
This project highlights what I find really special about working in the AudioLab as it's the result of an interdisciplinary team working together and bringing different perspectives. While we all focus on sound, we come from different disciplines. I originally trained as a classical singer and then I became interested in the physiology and acoustics behind what was happening. We all work together with a mutual respect and excitement for each other's ideas and expertise. I believe that being able to think outside boundaries is what facilitates us in doing really exciting research."
Helena Daffern, Senior Lecturer, AudioLab (Department of Electronic Engineering)
Learn more about the 'Sing from your seat' project
Find out more about YorkTalks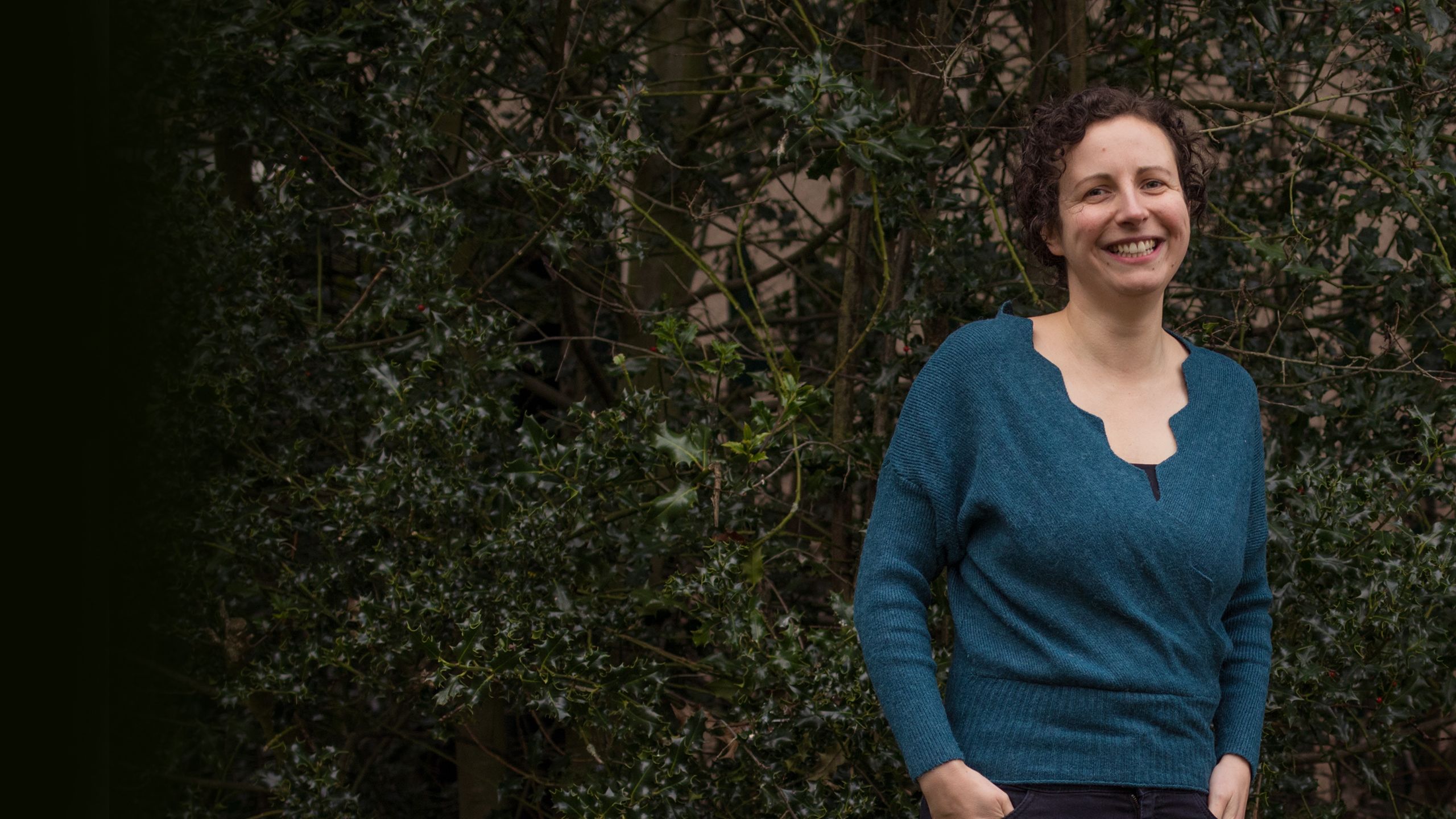 Meet John
"I'm from Ghana and this is my first time being in the UK. I'm here thanks to the Chevening Scholarship. Chevening exists to educate people so they can go back home and influence the economic and social development of their country. When I finish I look forward to going back home to contribute to the economic development of Ghana with the knowledge I've gathered here. Networking is paramount in Chevening and there are regular events that foster connections among scholars.
In October we had the Chevening orientation at London Excel where 1750 scholars from over 141 countries gathered… it was beautiful. The UK is a very fantastic place to study because it's very cosmopolitan – there's a whole lot of different people and different cultures. Being in this environment offers a good avenue to learn and develop beyond your academic study - you can improve your emotional intelligence among many other things. That's basically one of the reasons I wanted to do this. I found the process of adapting to the different way of life quite bumpy in the beginning but now I think I'm getting the hang of it.
I miss my family, the food, and the weather back home as it's always summer in Ghana! It's colder in York and it's not like cities at home, but that was why I chose to come here. Accra (the capital of Ghana) is very busy and there's much more traffic, but York is close-knit, quiet and easier to navigate. Unfortunately, though, there are no Ghanaian restaurants… maybe someone should open one!"
John, MSc in Mathematical Finance, James College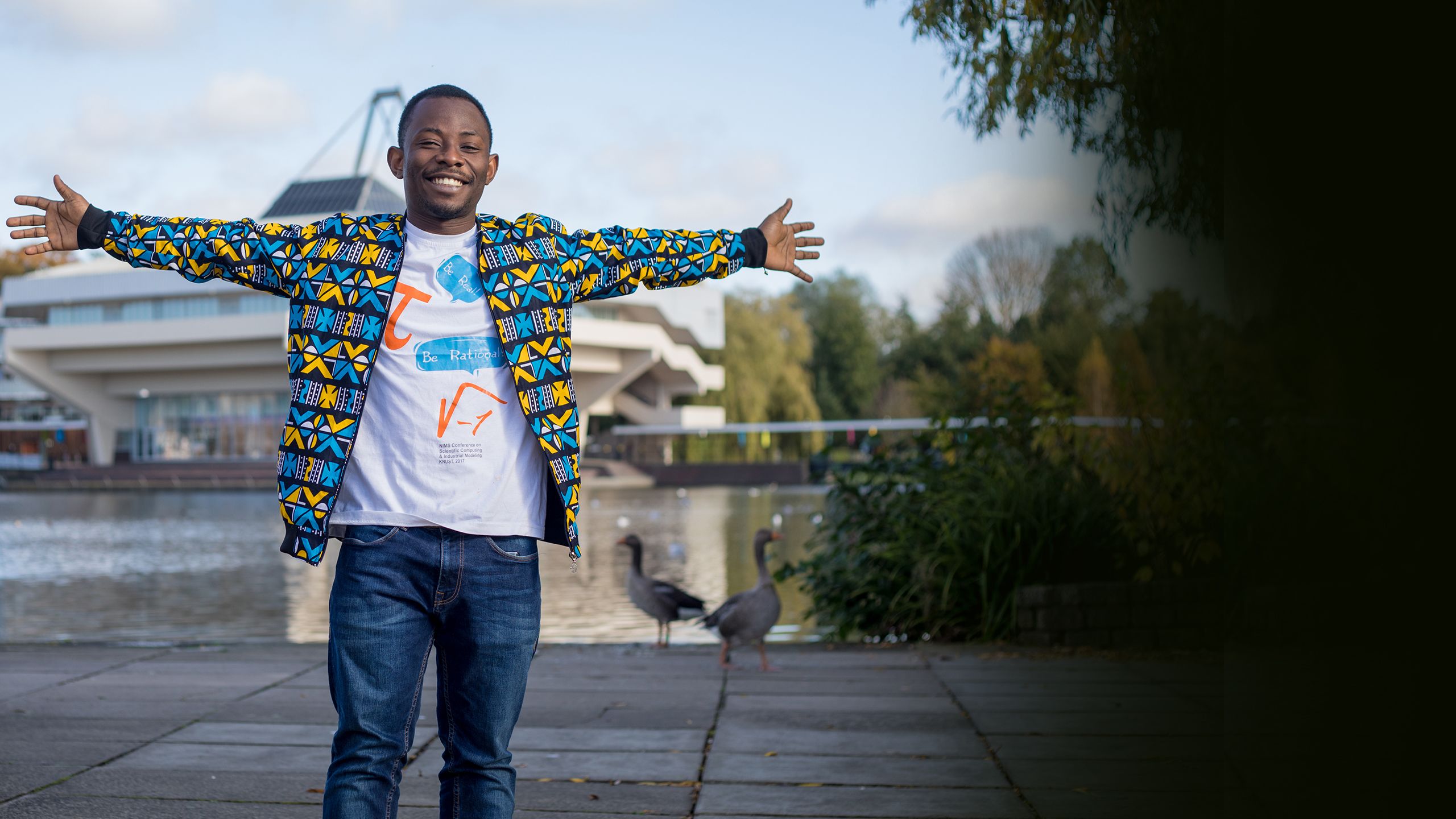 Meet Harry
"I heard about the Laidlaw Scholarship quite early on in my first year, but I wasn't sure whether I was ready to do it as I'd just settled in. Initially I thought you had to be from a science background to apply but there are people from lots of different disciplines. You focus on research for six weeks each summer (over two years) and then there are development centres and workshops throughout the year to develop your leadership skills. You also receive funding for your research which is great as it gives you more freedom.
The beauty of it is that your research can be whatever you want it to be – it's led by you, with support from a mentor. My research falls under the theme of 'environment and sustainability' as I'm looking at fashion, with a focus on making the supply chain more sustainable. Alongside a literature review and speaking to industry professionals, I'm also running a workshop to encourage awareness of the importance of longevity of clothing. I'll be helping people learn how to sew clothes, make their own clothes and customise their own clothes.
I'm only in second year now but Laidlaw has definitely helped give me direction in terms of my career path. It's quite aspirational but ideally I'd like to be a creative director in my own fashion brand. It's something I've always been interested in but now I feel like it's something that's becoming more and more realistic, and that's partly due to what I've been able to do through the Laidlaw project."
Harry, Business Management, Derwent
Find out more about the Laidlaw scholarship
Meet Maryam
"Education has always been an important part of my life, but it became more so when I came to the UK as a refugee and found myself in a completely new language and education system. I remember coming into school for weeks without speaking much, just listening and trying to understand what everyone was saying. Eventually, I achieved results that allowed me to apply to university, and I give the credit to my incredible high school and college teachers.
I was accepted to York through the Equal Access Scholarship, which allows asylum seeker/refugee students to access university as we're not entitled to government student loan or student finance. These scholarships are extremely competitive, I applied for them at five different universities and was rejected from four. It was daunting to see these rejections. But reflecting back now, I am thankful. I always found York as a city and a university such a warm and welcoming place to be in, and as a student I was surrounded by a wonderful support network and friends who became my second family.
One of my favourite moments at university was YUSU (York Students' Union) results night when I ran for two positions in the student union. There were people there who I hadn't met before but they'd voted for me and congratulated me when I was elected. It was such a special moment and a representation of the community here. 
During my years here in the UK and while I was at university, I couldn't see my dad due to immigration complications - getting into university was such a positive experience for my whole family, one that helped me grow both personally and academically. This year I saw my dad for the first time in eight years, and he attended my graduation. It's hard to explain these moments in words, but I am grateful for everything that lead up to it. 
Thank you York and Alumni, and thanks to the charity Student Action for Refugees (STAR) for supporting universities in setting up these scholarships." 
Maryam, Biomedical Science graduate, Alcuin
Support students like Maryam by getting involved with York Unlimited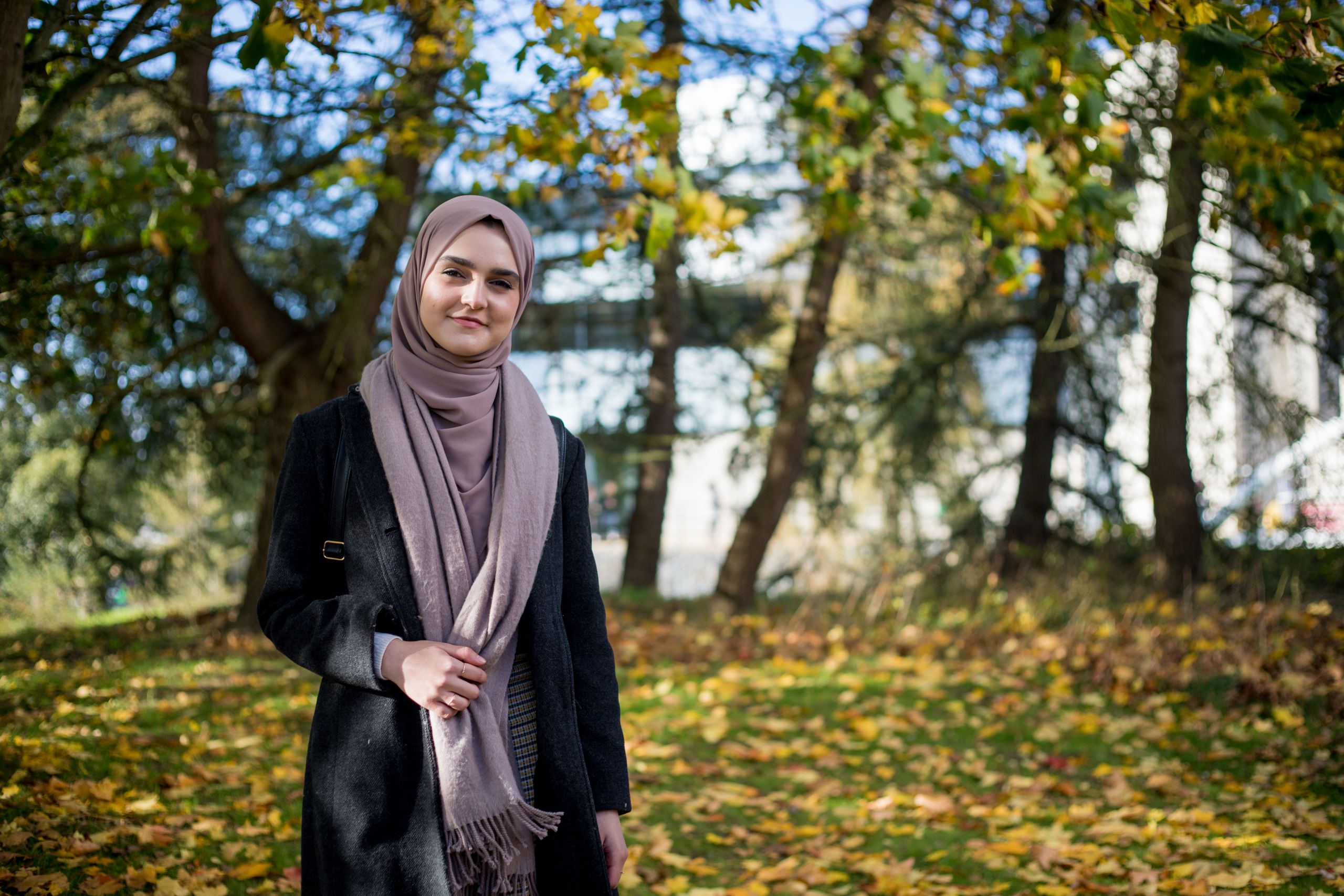 Meet Jack
"I would recommend to anyone getting involved with sport at York. In my first year, I struggled a lot with panic attacks and anxiety.  The support I received from the university and the Open Door team was amazing but what gave me the confidence, belief and mental peace to enjoy university fully was joining the Lacrosse Club in my second year.
I had never even heard of lacrosse before coming to York, but becoming part of the club and playing lacrosse has been incredible for my mental health. It's a fast paced and physical sport that allows me to forget about all of the stresses of university life and enjoy playing the sport I love with my teammates.
As the club male president this year I am determined to see as many students benefit from the sport in the same way that I have in the last two years. We have two men's and women's teams and I encourage everyone to come along and give lacrosse a go, my only regret is not starting in my first year! 
Later in the year, we plan to help launch college lacrosse which will give even more people the opportunity to enjoy the game and introduce more people to the incredible benefits of playing sport at university."
Jack, MEnv EEE, Lacrosse Club Male President 2019-2020, Goodricke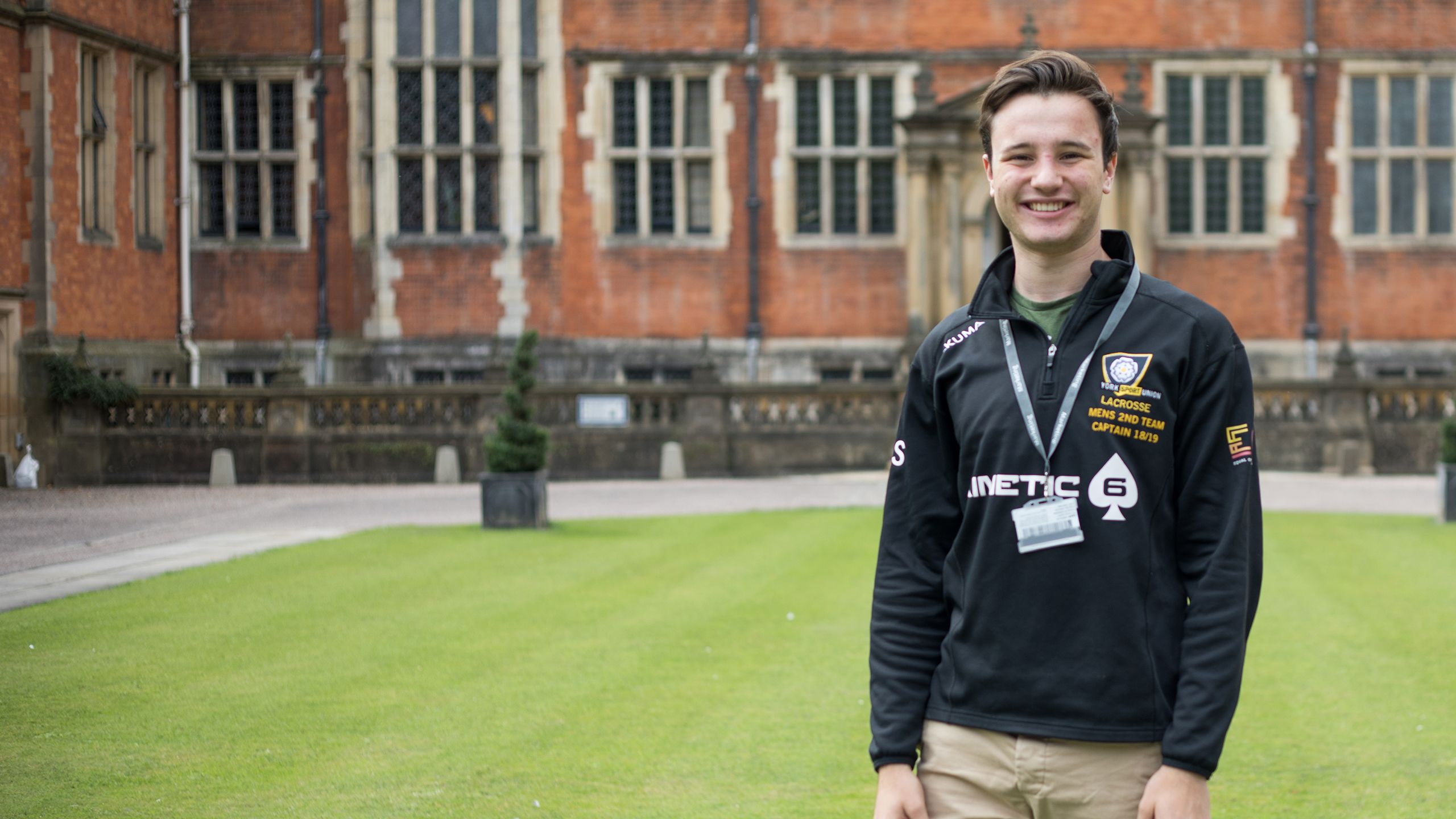 Meet Zsófia
"What I like most about being a student here is having access to a wide range of opportunities for self-development. There's a lot of emphasis on career development for students and the university provides me with so many tools to help me achieve my goals. 
Getting involved with the York Strengths Programme has really opened my eyes. It's helped me recognise my natural talents and discover aspects of my personality that I'd not known of before. As a result I have a better understanding of how I can use my skills and qualities to enhance my career prospects.
I like how many sports teams and societies we can get involved with. I'm part of the United Nations Association and have been working with the Secretariat to organise the York Model United Nations 2020 conference. I'm also the student representative for the Faculty of Social Sciences. As a rep my role is to ensure that the views of students are heard at university-level committees. I've gained so much insight into policy-making procedures at the university and a better understanding of how decisions are made. I've also met so many like-minded people who are passionate about helping the student community. Being a course or faculty rep really helps you get the most out of your experience at York and have an impact on the future of the university at the same time!"
Zsófia, Politics with International Relations, James College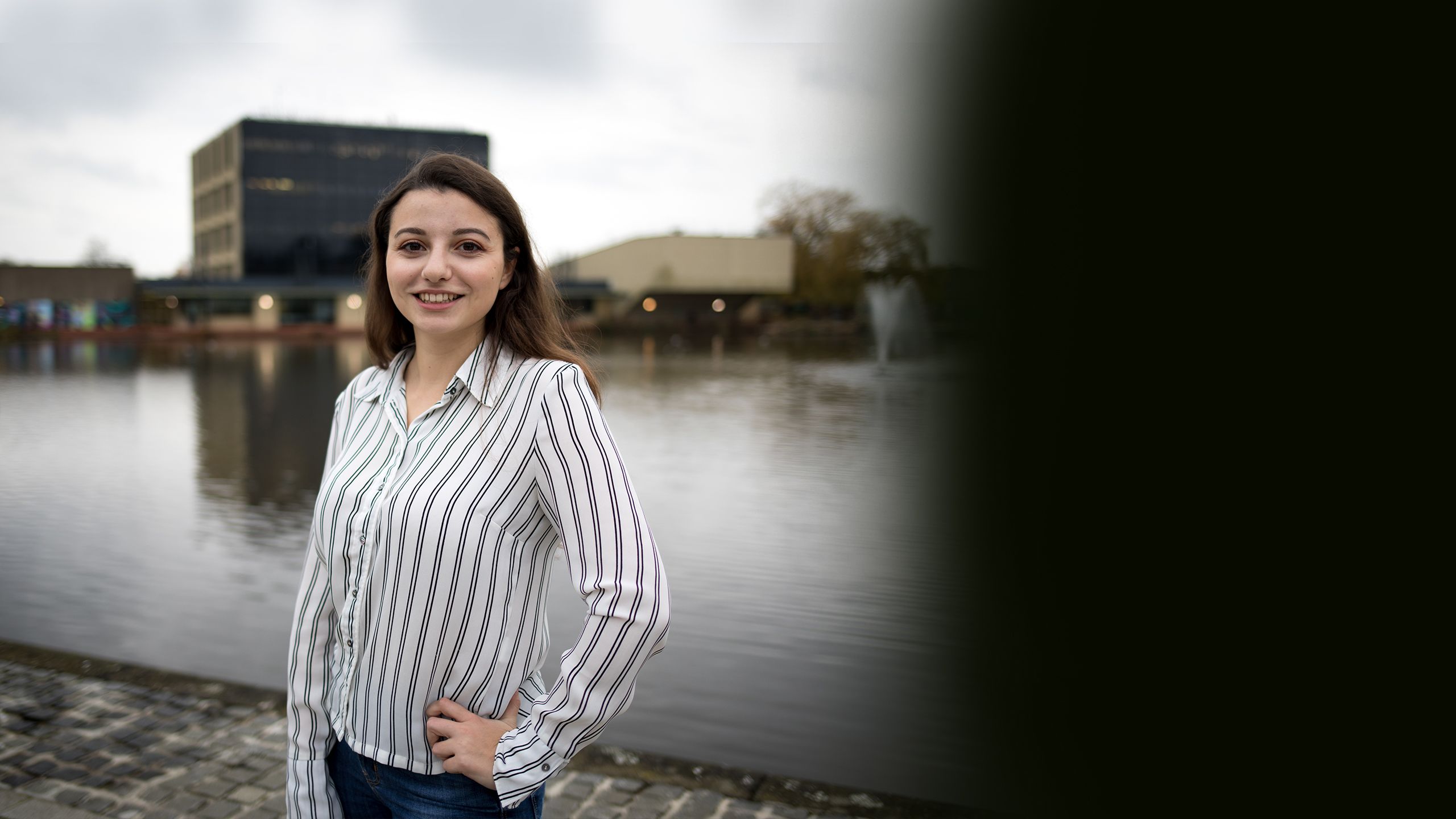 Meet Chris
"I was the first care leaver from North Yorkshire to attend university under the Leaving Care Act. I studied Computer Science here at York and I graduated in 2010. For a care leaver, university is a very different experience. It affects so many things – like where you live during holiday time but also decisions like studying abroad – where are you going to store your belongings when you're away?
I didn't have anywhere to go to outside term time and I didn't necessarily have as much money as some students, but I was lucky in that I was supported by my local authority. At the time we understood these things a bit less as an institution, but my experience at university was a great one despite everything.
At school I always achieved well and because I was able, I did have aspirations to go to university as a natural progression in my education, but not everyone has that. Care leavers are five times more likely to end up in prison than university. It's immensely eye-opening and inspirational as a kid to visit our beautiful campus and learn what it's like to be a student here. Through work with the county council, we've had over 100 care leavers visit us and as a result some people who didn't see themselves going to university have now applied. We're also currently piloting the most comprehensive package of support for care leavers in higher education and that includes provision of accommodation. I'm very proud of that work.
I think the University's a very welcoming place for people who come from a whole range of backgrounds, including care leavers. I know that universities are here to deliver great teaching and do great research, but for me, I see them as having the ability to truly change lives. University changed my life and I became more employable. It was a place I could apply knowledge, but it also increased my support network. It gave me so many good lifelong friends and I'm really grateful."
Chris Hoyle, Management Information Analyst (Widening Participation Evidence and Evaluation)
Read about our support package for students who have been in care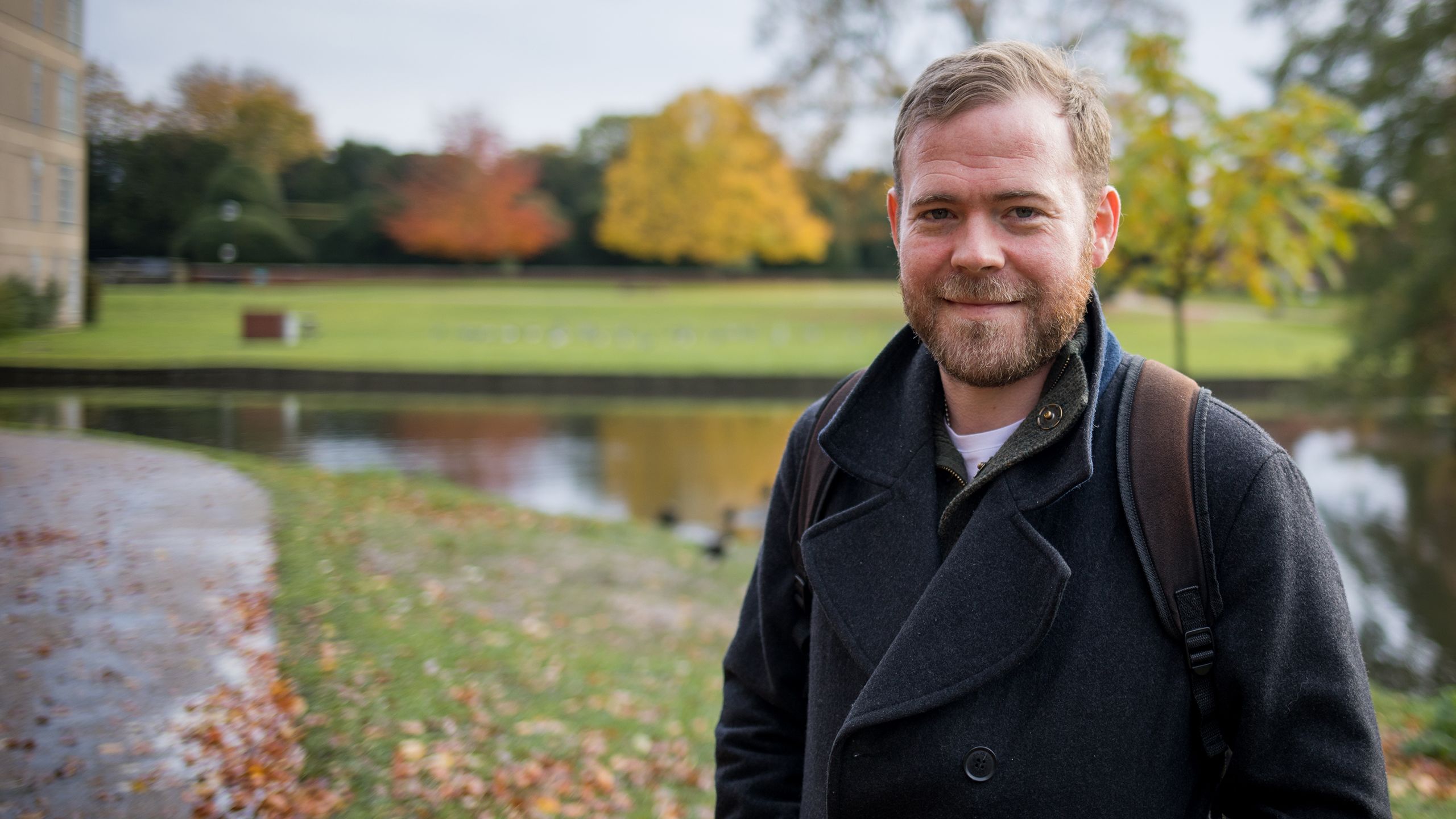 Meet Cristina
"I'm originally from Barcelona. I did my undergraduate Biomedical Sciences degree in Surrey (with a placement year in Texas) and then worked as a research technician in London before coming to York for my Masters. I've been in the UK for five years so far and I've found it very welcoming. There are so many Europeans from different countries in all the cities I've visited. I've also met a lot of Spanish people which makes it feel more like home.
Spanish culture is super different, but I don't regret coming here as I'm enjoying it and learning so much. I mainly miss the weather and seafood, but York is good for restaurants so that makes it easier. Before I started my MSc I'd never been to York before, I'd just seen it in photos but I'm quite adventurous so it was exciting to come here. I really like the cathedral, it's amazing and there's a lot to do in the city. I really like the lively atmosphere.
I've just started volunteering at a lovely venue called 'YourCafe' located at the Tang Hall Community Centre, just a few minutes from campus. The café is run by a very inspiring woman called Margaret, and it aims to promote a community spirit while tackling food waste. It's such a great project and it's been a rewarding experience so far."
Cristina, MSc Molecular Medicine, Wentworth College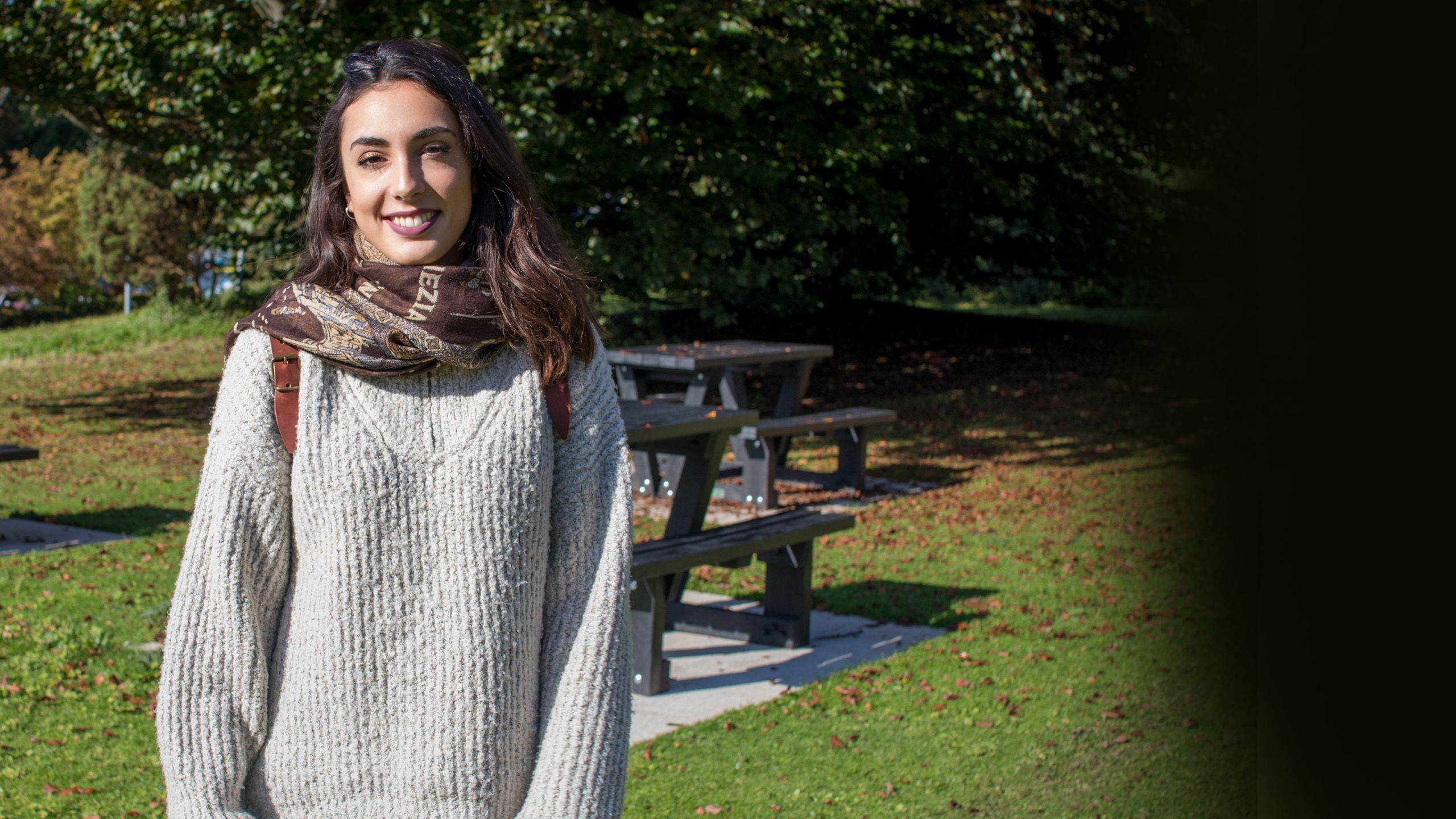 Read more Humans of York stories or nominate yourself or someone else to appear as a Human of York via our Facebook page