THE YEAR WE CAME TOGETHER
Shortlisted for University of the Year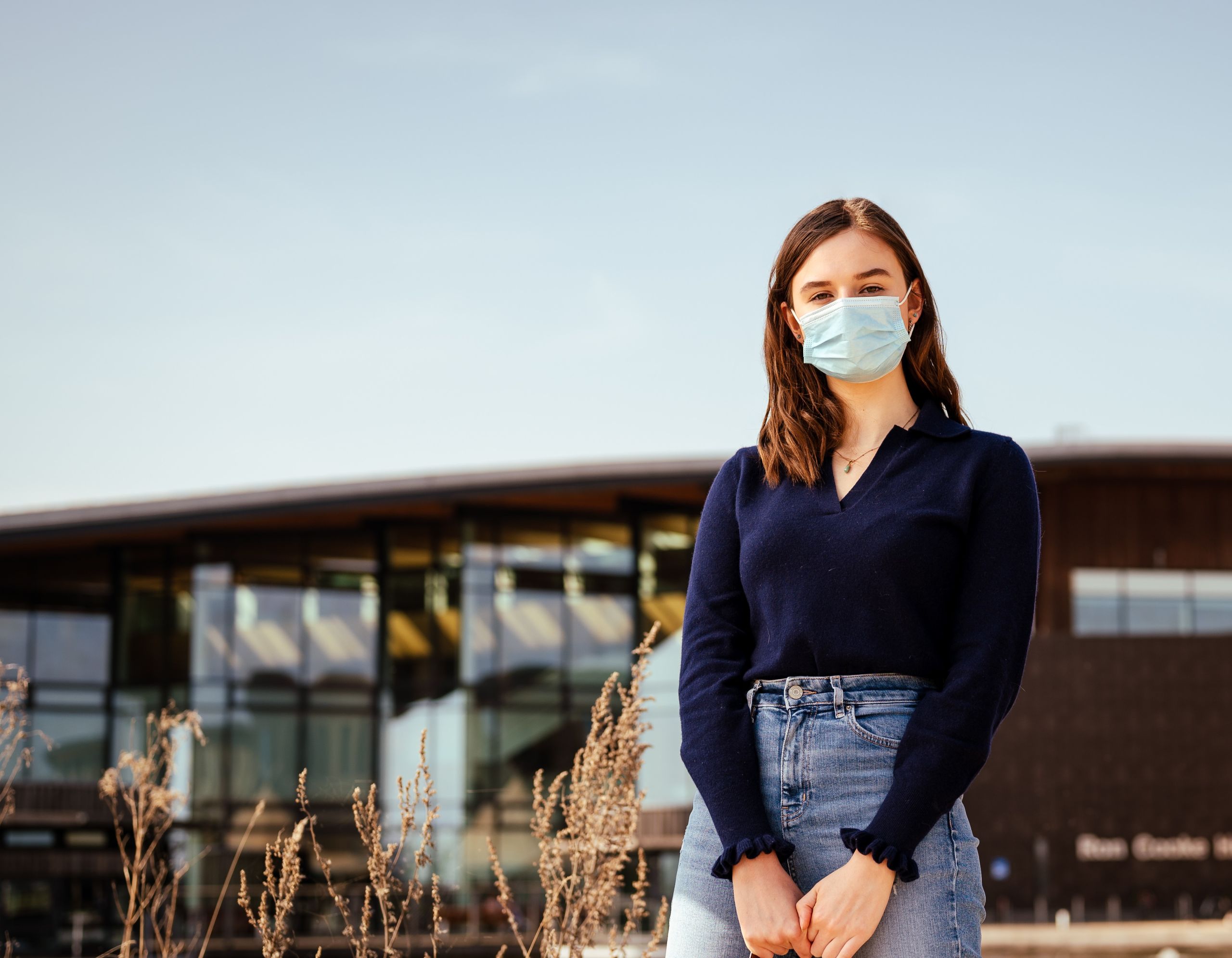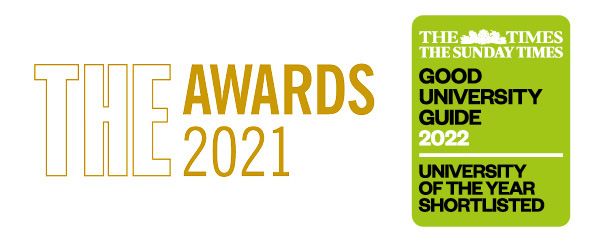 When he became the University of York's new Vice-Chancellor in September 2019, Professor Charlie Jeffery set out an ambitious new vision positioning us as a university for public good.
The Covid-19 pandemic would see this mission put to the test, from the initial student case in January 2020 to the challenges that unfolded in the following days and months.
But our response – with a focus on transparency, community-building, civic leadership and social justice – demonstrated just how powerful the unyielding human spirit, the York spirit, could be.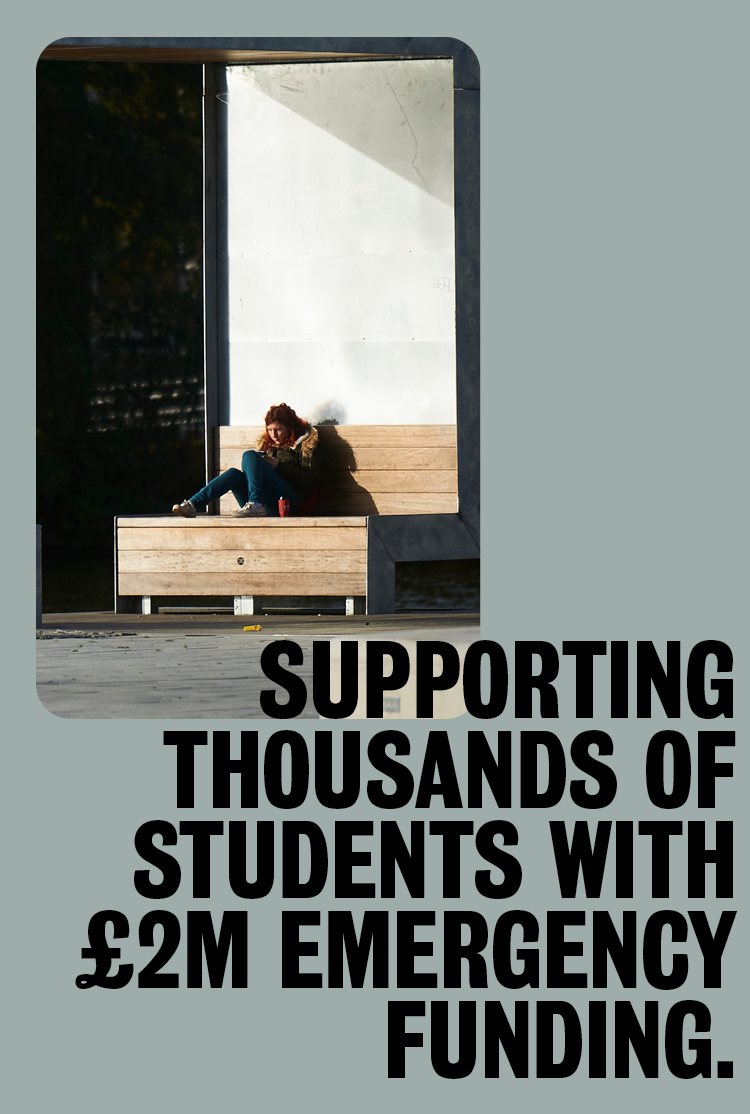 We were the first university to launch an emergency student support fund
Thanks to generous donations from alumni and friends we were able to quickly help students facing unforeseen costs of the pandemic.
"It is easy to forget that some families do not have access to basic technologies at home. My internet access at home is very poor and would not facilitate first-class dissertation work. By providing this grant, you are giving students the opportunity to reach their goals in the same way that others can."
We were at the heart of the city's response
Through our key role in the City of York's Outbreak Management Advisory Board we:
opened the City's first walk-through testing centre on campus
co-designed effective test and trace systems
supported the region's schools with their own testing
"This work has been essential in keeping people in the city safe and continues as we all look to help York recover from the pandemic, and we are grateful to the University for their continued support and work."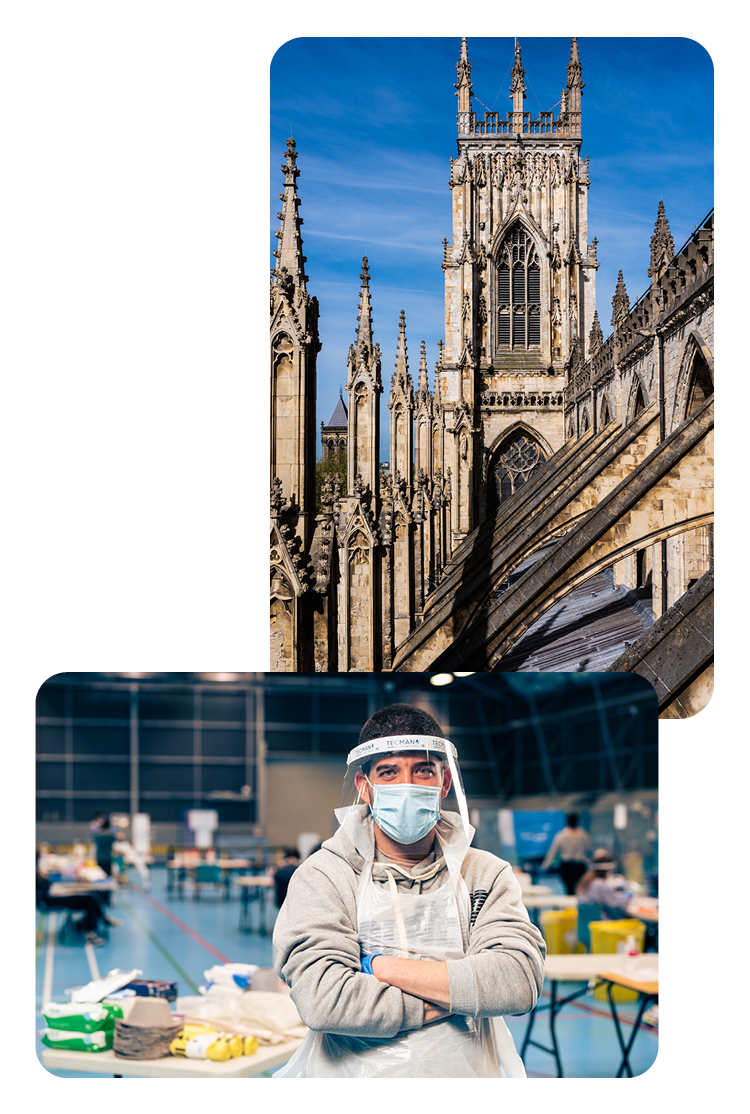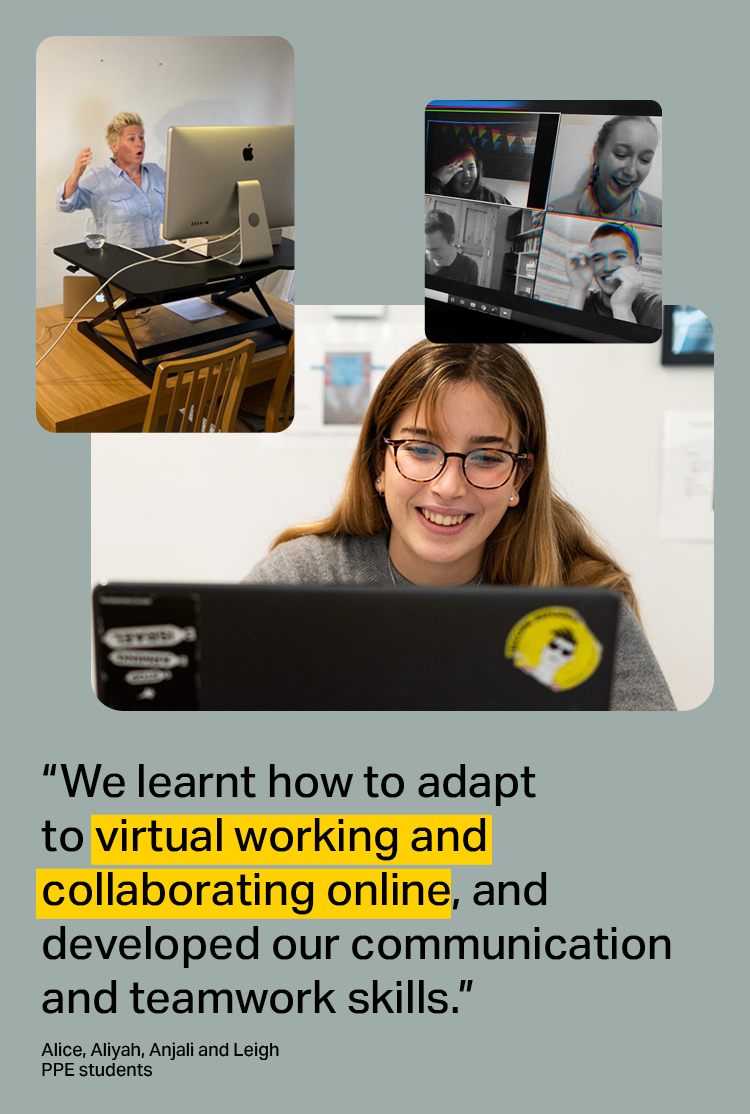 We seized the opportunities of online teaching
The speed of change meant that, almost overnight, academic staff had to create new ways of teaching, making new materials and using unfamiliar digital tools.
Here are just some examples of their creativity and commitment:
Final-year Theatre student performances became an innovative online monologue festival, paving the way for the student-led Emergence Festival
The Management School gathered guest lecturers from across the globe, including Jo Hull, head performance coach for the Hong Kong ladies rugby team.
Archaeology's Professor Penny Spikins took the opportunity to make her lectures available as podcasts, with audio descriptions of artefacts.
Students used collaborative tools and real-world data to investigate important policy problems for the Economics Summer Project.
We pivoted our research and expertise to tackle new challenges
Technicians within the Departments of Biology and Archaeology leapt into action to create face shields for frontline workers, and our researchers were part of the global effort to drive new insight and investigate the immediate impact of the virus, as well as the longer-term implications for society.
For example, Covid Realities (a collaboration between the University of York, the University of Birmingham and the Child Poverty Action Group) helps parents and carers to share experiences of life on a low-income during Covid-19 to shape policy decisions in the future.
We put care and kindness above all else
We listened to our students, using regular surveys to understand how they were feeling and working with our Students' Unions to do everything we could to respond. 
As well as the popular 'lockdown loot' goodie bags, self-isolation packages and Christmas hampers, we also made more than 6,000 welfare emails and phone calls to self-isolating students.
These small acts of care and kindness inspired others, such as the students who created online communities to ensure that Covid-19 did not derail the education and aspirations of bright young people.
With the pandemic deepening existing inequalities, we reaffirmed our commitment to under-represented groups in our community. An Office for Students briefing note on 'Students without family support' highlighted the effectiveness of our initiatives to prevent loneliness among care leavers and estranged students at the University.
"I just wanted to say how appreciative I was of the support that I received during my recent self-isolation period. The food parcels, activity pack and voucher were absolutely amazing and totally unexpected. Within 30 minutes of completing the self-isolation form, I received my first daily phone call checking how I was."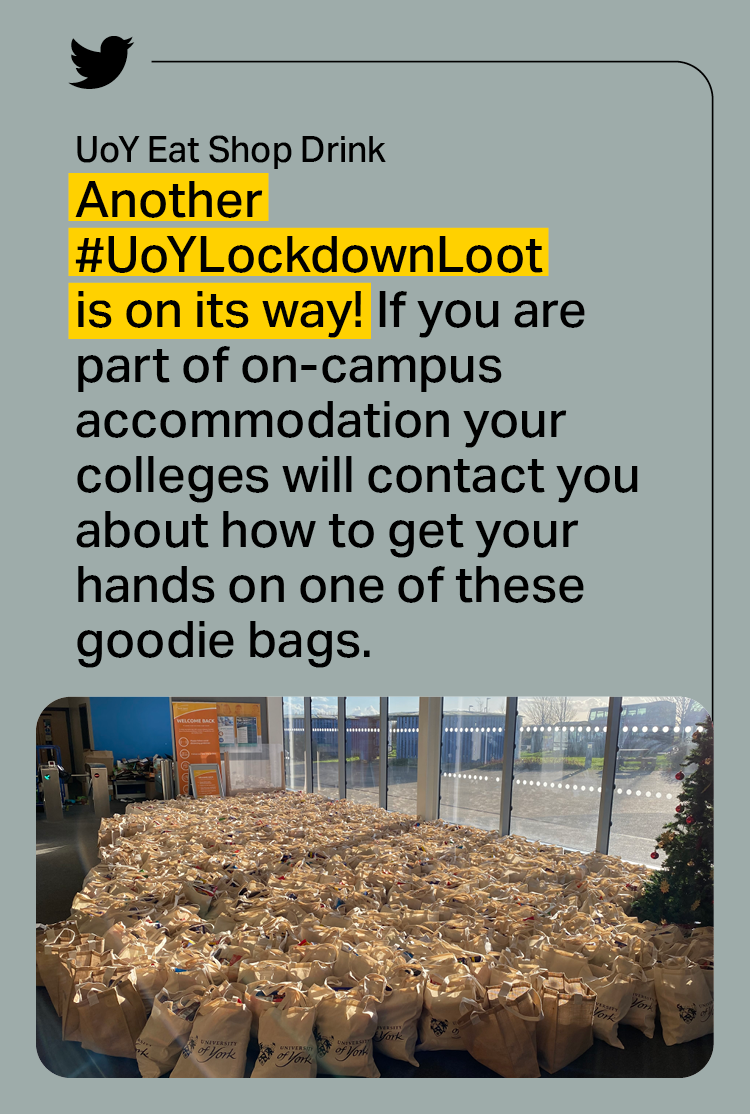 We reached out
The York Festival of Ideas embraced our new digital world and worked in partnership with more than 100 organisations to broadcast events across the globe.
Audience members said that the online events: 
helped them feel less isolated (33%)
made them feel connected to a community with shared interests (46%)
enabled them to learn something new (77%)
"A much-appreciated opportunity to join a live session with my teenage daughter. She's really missed live stuff as school doesn't do this. She brought a notebook and buzzed about @sustainableish ideas."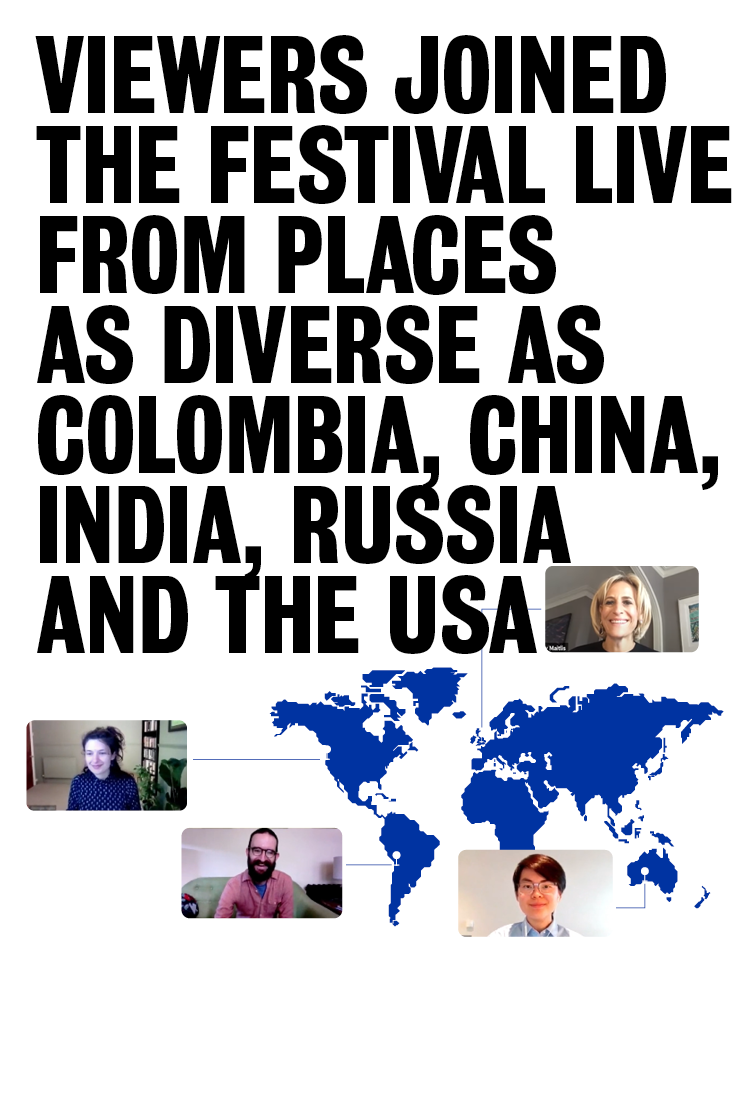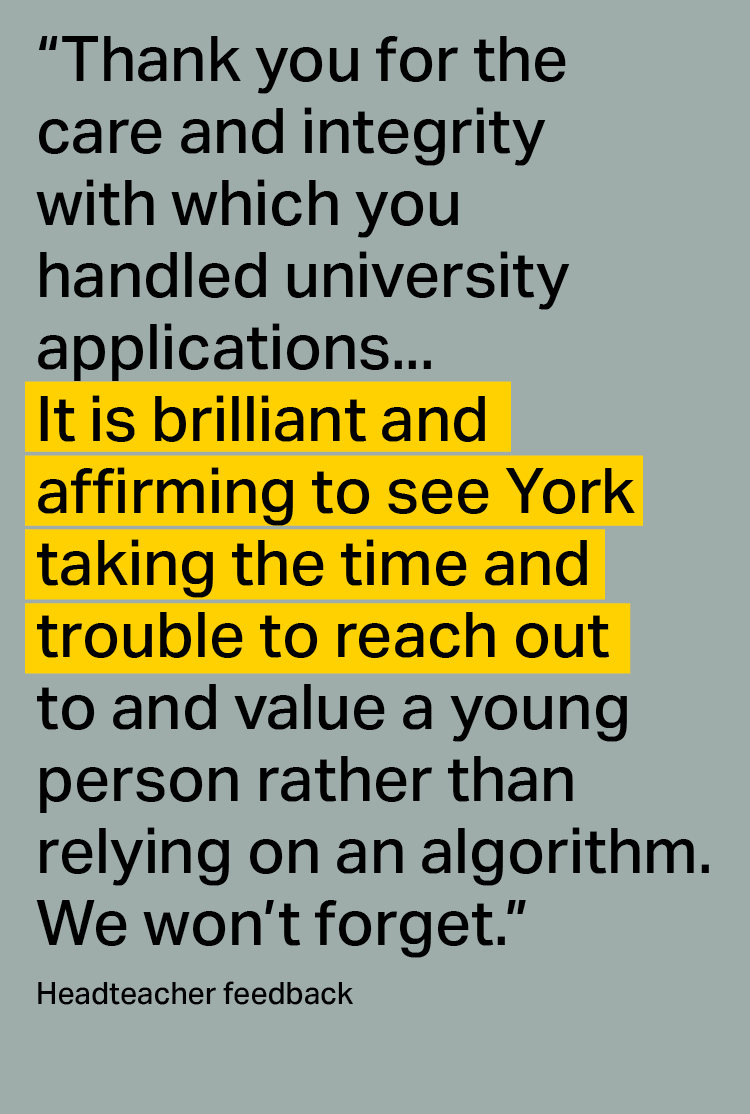 We supported new students through unprecedented challenges
A level results week was chaotic and confusing. After uproar as 36 per cent of grades in England were downgraded by exams regulator Ofqual, the Government announced that grades would be based on teachers' predictions. 
Those involved with clearing and confirmation had to deal with the technical challenges of new ways of working, increased call volumes to our vacancy hotline and uncertainty around policy changes. But they never let this get in the way of their care and compassion for hard-working students.
And, as these students would be starting University at a time unlike any other cohort, we designed and delivered four Short Private Online Courses (SPOCs) for undergraduates and postgraduates, to prepare them for learning and life at York.
Our response to the pandemic was inspired by a desire to support and care for others, to work together, and to collectively act for public good.

Our community demonstrated this time and time again.

We now have a once-in-a-generation opportunity to shape our societal recovery from the pandemic, one that delivers a more inclusive and equitable outcome for everyone.

We're ready for this challenge.